Recent statistics show, while the U.S. may be making strides in the opioid epidemic, usage for some illegal drugs has gone up. 
Quest Diagnostics' annual analysis of more than 10 million drug test results shows increases in cocaine, methamphetamine and marijuana use in the American workforce remains at its highest rate in more than a decade.
The positive rate for 2017 remained at 4.2% – the same as 2016, but a significant increase over the 3.5% rate in 2012 which was a 30-year low. (For an interactive map with positive rates and trends by three-digit zip code in the U.S., click here.)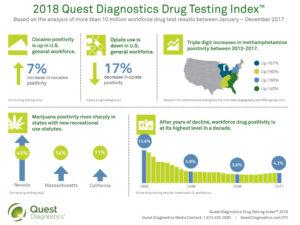 For the fifth consecutive year, the positive rate in urine testing for cocaine in the general workforce increased, from 0.27% in 2016 to 0.30% in 2017.
Positive rates for cocaine increased significantly in: Idaho, Maryland, Nebraska, Nevada, Washington and Wisconsin.
Methamphetamine positive rates skyrocketed in these states: Alabama, Delaware, Florida, Georgia, Illinois, Indiana, Kentucky, Maryland, Michigan, Mississippi, New Jersey, New York, North Carolina, Ohio, Pennsylvania, South Carolina, Tennessee, Virginia, Washington DC, West Virginia and Wisconsin.
There is some good news in the Quest report. Nationally, the positive rate for prescription opiates in the general workforce in urine testing declined 17% between 2016 and 2017 (0.47% to 0.39%).
"The depth of our large-scale analysis supports the possibility that efforts by policymakers, employers and the medical community to decrease the availability of opioid prescriptions and curtail the opioid crisis is working to reduce their use, at least among the working public," said Dr. Kim Samano, scientific director, Quest Diagnostics.
Urine drug test results for heroin also declined in the general workforce for a three-year low.
Marijuana positives continues their five-year upward movement in urine testing for both the general and the federally mandated, safety-sensitive workforces. Marijuana positives increased 4% in the general U.S. workforce and nearly 8% in the safety-sensitive workforce.
Quest says the increase in marijuana use was most striking in states that have enacted recreational use since 2016: Nevada up 43 percent, Massachusetts up 14 percent and California up 11 percent.
"These increases are similar to the increases we observed after recreational marijuana use statutes were passed in Washington and Colorado," said Dr. Barry Sample, senior director, science and technology, Quest Diagnostics. "While it's too early to tell if this is a trend," Sample said, "our data suggests that the recreational use of marijuana is spilling into the workforce."