Liven up safety meetings, build lasting safety awareness and prevent more incidents
Read this Essential Insights now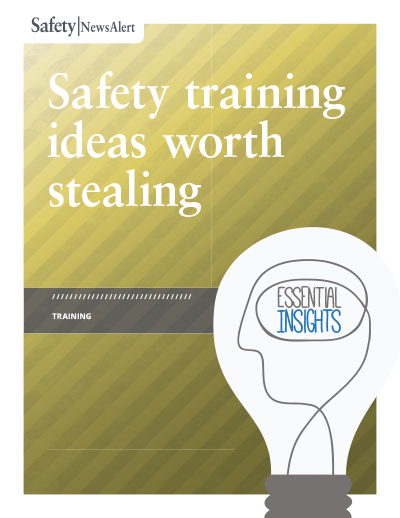 Safety Training Ideas Worth Stealing
Part of the Training Series
Do your workers' eyes glaze over during safety training? You're not alone.
It's hard to hold employees' attention when the message is pretty much the same every time, even though their safety is at stake.
The key is creating training that sizzles and sparks worker interest – time after time.
How do you do that?
This Essential Insights guide has the answers. It contains 65 unique and proven safety ideas and examples to not only keep workers engaged and focused during training, but help them consistently put what they've learned into practice long after the session's over.
What's Inside?
Safety Training Ideas Worth Stealing
Boost Safety Awareness in 30 Minutes
Compelling stories and demonstrations that drive home your message
"Nothing will happen to me" - bring Supermen and tough guys back to reality
The core emotion that focuses everyone on safe behavior
3 steps that keep safety training from going in one ear and out the other
Change minor at-risk behavior with "safety fines"
Get Safety Training to Last
Under-used tips proven to boost training retention
Perfect way to get targeted training points for your next meeting
Safety quotes good enough for the U.S. Navy, good enough for you
Where to focus your training for the greatest impact
Tap into staff talent to liven up meetings and make safety training stick
Safety Training: What Is and Isn't Working
Using off-the-job safety to get positive on-the-job results
Recognition and incentives that improve safety
8 hazards the military focuses on during a safety walk-through
Weed out safety problems with a "Foul-Up Forum"
4 ways safety recognition backfires and how to avoid it
What Our Customers Say
"Worth the Price"
"Very good. Very valuable. And worth the price!"
Dan Nelson,
Safety Directory, Campaign Asphalt
"Excellent"
"It cuts to the chase and get to the point. It has excellent content and explanation of topics."
Jim Kauderer,
Risk Manager, AOL Time Warner
"Above Expectations"
"It's above expectations. An excellent source for any OSHA safety program."
Roy. Spittle,
Founder, Taormina Electrical
45-Day Money Back Guarantee
Safety News Alert's "Safety Training Ideas Worth Stealing" Essential Insights comes with an unconditional, 100% money back guarantee.
If you decide "Safety Training Ideas Worth Stealing" doesn't deliver value or simply isn't your cup of tea, just email us at CustomerSuccess@SafetyNewsAlert.com within 45 days, and we'll process your complete, no-hassle refund in 1 business day or less.
But I'm confident you won't need to.
To your success,
Curt Brown