Everything you need to train on fall protection, fully customizable to your workplace
Read this Safety Training Kit now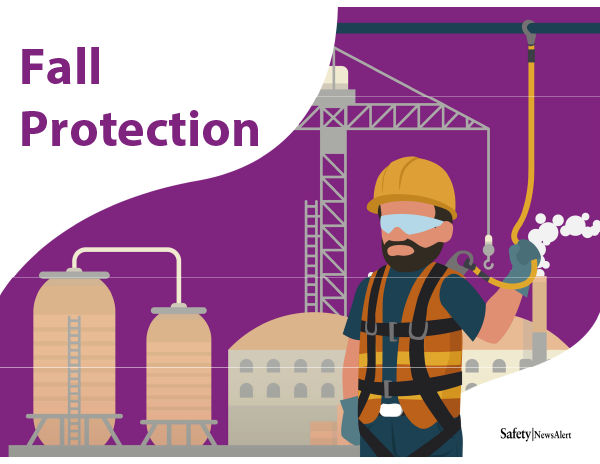 Fall Protection: Safeguard Against 5 Common Hazards
Teach your workers about fall hazards and how to protect themselves
Falls account for more than 25% of workplace injuries - and over 500 fatalities - every year. No wonder, then, that OSHA's fall protection standard is always one of the most frequently cited violations each year.
OSHA requires you to train workers on job hazards they'll face as low as four feet off the ground. But showing workers where the danger spots are won't prevent injuries if workers don't understand how to work safely with the fall protection measures you've taken. So how do you get your workers to be aware of this ultra-common hazard without having to re-invent the wheel every time you need to conduct training?
Use this Safety Training Tooklit to:
Stress the dangers of fall hazards to workers
Teach them what fall protection is and how to use it
Educate workers on how to select proper protection
Get your message across and make it stick
Your Kit Includes
A High-Quality, Customizable 15-Slide Presentation
Designed to Keep Their Attention and Aid in Recall

Plus these materials to help you train and get your message to stick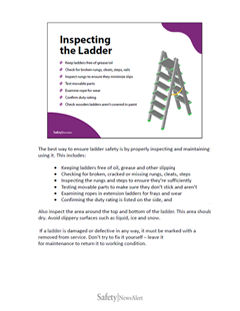 Trainer Talking Points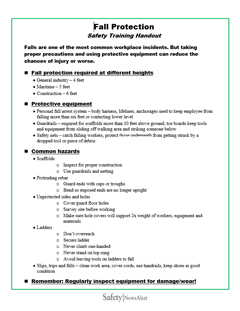 Trainee Handout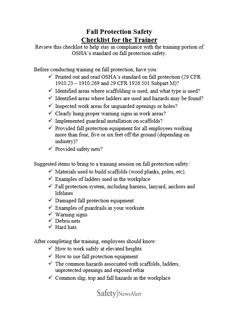 Trainer Checklist
Get This Kit Now
WHAT YOUR TEAM WILL LEARN FROM
Fall Protection: Safeguard Against 5 Common Hazards
Working Safer with Fall Protection
5 major workplace hazards caused by improper use of fall protection
Working with ramps, bridges, handrails and other potentially dangerous scenarios
Steps to make sure your fall protection equipment works every time
Serious injuries that can occur as the result of a simple trip or fall
What Every Employee Needs to Know About Fall Protection
How to properly use personal fall arrest systems
The equipment required to stay safe when working above the ground
The importance of warnings and safety nets
14 critical elements of working safely with ladders
And much more...
These Training Kits are:
Customizable to fit your workplace or training needs.
Suited to both formal training sessions or quick toolbox talks
Backed up by a 45-day Money-Back Guarantee
Immediately available for download
What Our Customers Say
"Worth the Price"
"Very good. Very valuable. And worth the price!"
Dan Nelson,
Safety Directory, Campaign Asphalt
"Excellent"
"It cuts to the chase and get to the point. It has excellent content and explanation of topics."
Jim Kauderer,
Risk Manager, AOL Time Warner
"Above Expectations"
"It's above expectations. An excellent source for any OSHA safety program."
Roy Spittle,
Founder, Taormina Electrical
Here's A Summary of Everything You'll Get

Your Fall Protection Safety Training Kit Includes:
15-slide PowerPoint presentation that gets the right message across while holding employees' attention
Trainer talking points with helpful tips that can be read word-for-word, customized, or used as informative background material
10 question quiz with answers to test trainees' knowledge of critical topics and document the success of your training session
One-page handout for trainees to reinforce your training message
Trainer checklist to ensure you hit the key training points
45-Day Money Back Guarantee
Safety News Alert's Fall Protection Safety Training Kit comes with an unconditional, 100% money back guarantee.
If you decide the Fall Protection Safety Training Kit doesn't deliver value or simply isn't your cup of tea, just email us at CustomerSuccess@SafetyNewsAlert.com within 45 days, and we'll process your complete, no-hassle refund in 1 business day or less.
But I'm confident you won't need to.
To your success,
Curt Brown