Read this Practical Tools now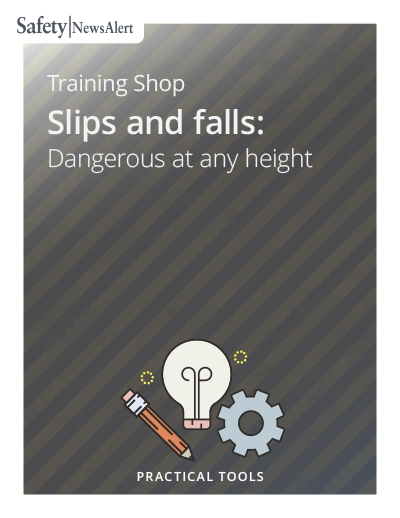 Slips And Falls: Dangerous At Any Height (Training Shop)
Risks aren't only present when you're working at heights.
In fact, a majority of fall injuries happen at ground level. Keep your work environment safe, both up high and on the floor, to maintain the safety of your employees.
In this Practical Tool, you'll discover:
Do's and don'ts to eliminate tripping hazards
Conditions you should always be looking out for
Footwear tips to prevent injury
Get This Practical Tools
& Much More …
With a HRMorning Insider membership you'll get immediate access to the Practical Tools you're looking at right now, plus all this in your account on day one:
Quality, reliable information you can trust – professionally curated, distilled and delivered to you all in one place.
BECOME AN
NOW
Get this Practical Tools plus 400+ resources - FREE for 21 days
What Our Customers Say
"Highly Recommended"
"From bite sized pieces of wisdom to full on training series, I highly recommend HR Morning!"
Cindy Saunders, SPHR|GPHR|SHRM-SCP,
Human Resources Business Partner
"Get the results you need"
"I knew I had a difficult conversation coming up with one of my employees. This helped me so much to prepare for the meeting. I was able to remain calm and get the results I needed."
Sharon Peterson
"Verbiage to use in real conversations"
"Very straight forward giving you good verbiage to use in real conversations."
Beth Bjorklund
HR Coordinator