Ergonomic injuries can be reduced – and this guide shows how
Read this Essential Insights now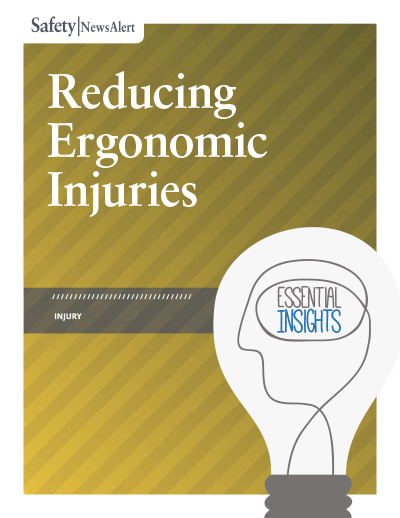 Reducing Ergonomic Injuries
Part of the Injury Series
Ergonomic injuries are expensive. U.S. employers pay about $20 billion a year in direct workers' compensation costs for musculoskeletal disorders (MSDs). Total costs are estimated to be between $45-54 billion.
Total lost days due to MSDs average out to over 2 full days for each full-time worker in the U.S.
Use this guide to reduce ergonomic injuries in your workplace.
Learn effective techniques and proven strategies on how to transform your workplace to prevent injuries, eliminate potential hazards and get worker buy-in to cut down on injuries.
What's Inside?
Reducing Ergonomic Injuries
Transforming your workplace to prevent injuries
Proven ways to reduce ergo-related injuries at your workplace
Misleading myths: Ergonomic fixes that don't work
Criteria to consider before changing a single thing
3 types of improvements you can start making today
Eliminating threats so employees don't get injured in the first place
6 ways to get employees involved in cutting down on injuries
5 major factors causing ergonomic issues at your workplace
Situations when the risk of ergonomic injury is amplified
Cover ups don't pay: How companies are getting busted
Conditions when repetitive motions are the most harmful
Awkward postures employees should avoid
Creating the most impact with any amount of resources
3 steps workers can take to help eliminate MSDs
Common goals of top safety pros: Are you meeting them?
Devising light-duty programs that don't re-aggravate injuries
3 kinds of PPE that will help prevent ergo hazards
Determining whether your changes are working
What Our Customers Say
"Worth the Price"
"Very good. Very valuable. And worth the price!"
Dan Nelson,
Safety Directory, Campaign Asphalt
"Excellent"
"It cuts to the chase and get to the point. It has excellent content and explanation of topics."
Jim Kauderer,
Risk Manager, AOL Time Warner
"Above Expectations"
"It's above expectations. An excellent source for any OSHA safety program."
Roy. Spittle,
Founder, Taormina Electrical
45-Day Money Back Guarantee
Safety News Alert's "Reducing Ergonomic Injuries" Essential Insights comes with an unconditional, 100% money back guarantee.
If you decide "Reducing Ergonomic Injuries" doesn't deliver value or simply isn't your cup of tea, just email us at CustomerSuccess@SafetyNewsAlert.com within 45 days, and we'll process your complete, no-hassle refund in 1 business day or less.
But I'm confident you won't need to.
To your success,
Curt Brown