Everything you need to stay compliant with OSHA's HazCom Standard, fully customizable for your workplace
Read this Safety Training Kit now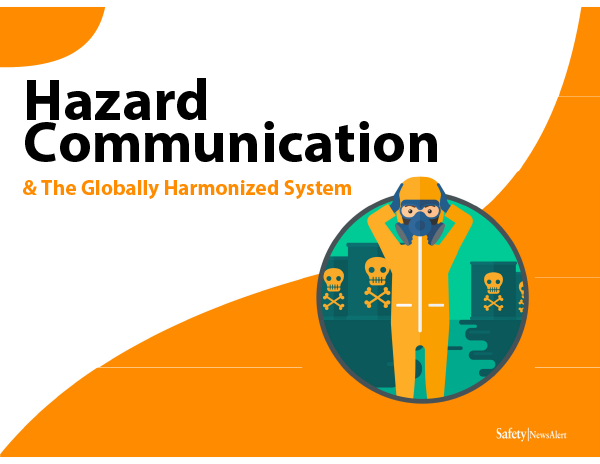 HazCom & the Globally Harmonized System
Give workers the training they need to identify hazards, read Safety Date Sheets, and avoid injuries. Get this All-In-One HazCom & Globally Harmonized System Training Toolkit today.
OSHA's HazCom Standard requires that you train all employees on hazardous chemical labeling and Safety Data Sheets (SDS). Failure to comply with the training requirement can stick you with a $7,000 fine.
This training toolkit is designed to help you educate employees quickly and effectively.
Your Kit Includes
A High-Quality, Customizable 14-Slide Presentation
Designed to Keep Their Attention and Aid in Recall

Plus these materials to help you train and get your message to stick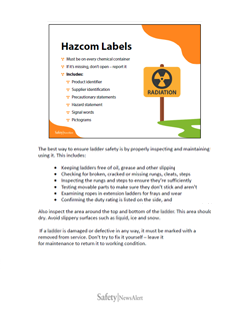 Trainer Talking Points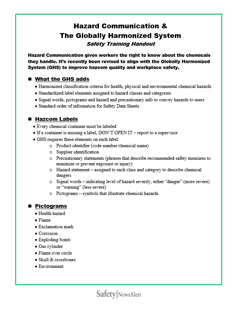 One-Page Handout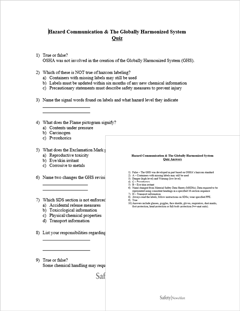 10-Question Quiz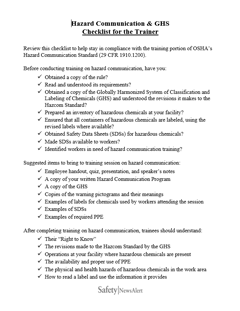 Trainer Checklist
Get This Kit Now
WHAT YOUR TEAM WILL LEARN FROM
HazCom & the Globally Harmonized System
HazCom & the Globally Harmonized System
What OSHA's updated HazCom standard means for employers
4 major changes to the OSHA HazCom standard brought on by the GHS
Responsibilities of both employers and employees
Best practices for conducting a successful GHS training session
What Every Employee Needs to Know About the SDS Format
The 6 elements each chemical label must have under the GHS
Examples of each type of label employees will encounter in the workplace – complete with pictograms
Explanations of the 16 sections of the safety data sheet (SDS)
How to deal with improperly labeled chemical containers
And much more...
The HazCom & the Globally Harmonized System Safety Training Kit is filled with real-life examples and valuable training tips that will help you provide workers with the knowledge they need to reduce their risk of injury.
These Training Kits are:
Customizable to fit your workplace or training needs.
Suited to both formal training sessions or quick toolbox talks
Backed up by a 45-day Money-Back Guarantee
Immediately available for download
What Our Customers Say
"Worth the Price"
"Very good. Very valuable. And worth the price!"
Dan Nelson,
Safety Directory, Campaign Asphalt
"Excellent"
"It cuts to the chase and get to the point. It has excellent content and explanation of topics."
Jim Kauderer,
Risk Manager, AOL Time Warner
"Above Expectations"
"It's above expectations. An excellent source for any OSHA safety program."
Roy Spittle,
Founder, Taormina Electrical
Here's A Summary of Everything You'll Get

Your Customizable HazCom & the Globally Harmonized System Safety Training Training Kit Includes:
14-slide PowerPoint presentation that gets the right message across while holding employees' attention
Trainer talking points with helpful tips that can be read word-for-word, customized, or used as informative background material
10-question quiz with answers to test trainees' knowledge of critical topics and document the success of your training session
One-page handout for trainees to reinforce your training message
Trainer checklist to ensure you hit the key training points
45-Day Money Back Guarantee
Safety News Alert's HazCom & the Globally Harmonized System Safety Training Kit comes with an unconditional, 100% money back guarantee.
If you decide the HazCom & the Globally Harmonized System Safety Training Kit doesn't deliver value or simply isn't your cup of tea, just email us at CustomerSuccess@SafetyNewsAlert.com within 45 days, and we'll process your complete, no-hassle refund in 1 business day or less.
But I'm confident you won't need to.
To your success,
Curt Brown