Everything you need to train workers on electrical safety, fully customizable for your workplace
Read this Safety Training Kit now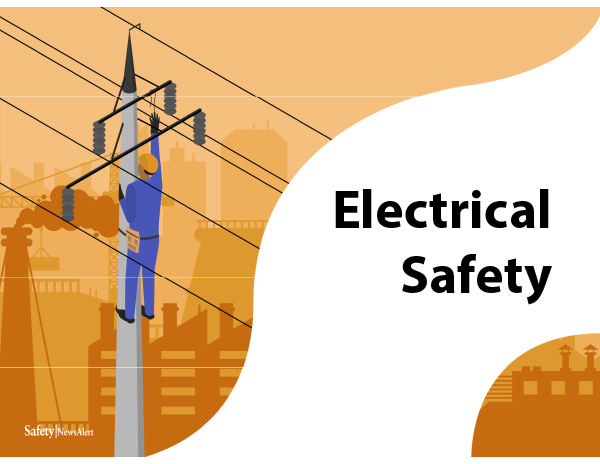 Electrical Safety Safety Training Kit
Give workers the training they need to avoid injuries related to electricity. Get this All-In-One Training Toolkit today.
As it is such a familiar part of life, most people have a false sense of security when it comes to working with electric currents. This is likely why electricity is the most highly encountered hazard in the workplace. Luckily, the vast majority of the electrocution fatalities each year are preventable with simple training.
Electrical safety training is essential, and required by OSHA's Electrical Safety Work Practices, to teach your employees to treat electricity with the respect it deserves. How do we ensure that our workers understand the consequences of carelessness and stay aware of safety while working with electricity?
Your Kit Includes
A High-Quality, Customizable 14-Slide Presentation
Designed to Keep Their Attention and Aid in Recall

Plus these materials to help you train and get your message to stick
Trainer Talking Points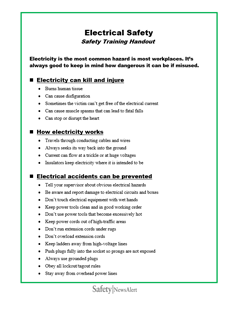 One-Page Handout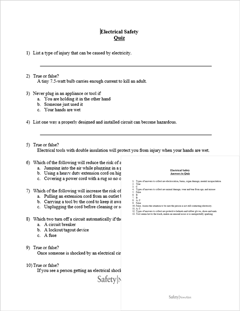 10-Questions Quiz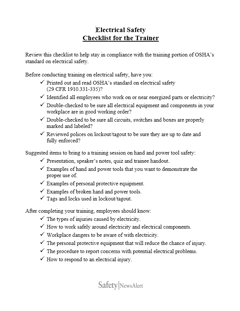 Trainer Checklist
Get This Kit Now
WHAT YOUR TEAM WILL LEARN FROM
Electrical Safety Safety Training Kit
Understanding Electrical Safety
How to prevent accidental contact
Working with overhead lines, extension cords, and portable electric equipment
How the proper use of PPE can save lives
5 steps to deenergize live parts and ensure safety
What Every Employee Needs to Know About Electrical Safety
How electricity acts and travels through wires
High risk areas and electric conductors
4 steps to working safely with energized equipment
Simple ways to prevent electricity induced injuries
And much more...
This Electrical Safety Training Toolkit is filled with real-life examples and valuable training tips that will help you provide workers with the knowledge they need to reduce their risk of injury.
These Training Kits are:
Customizable to fit your workplace or training needs.
Suited to both formal training sessions or quick toolbox talks
Backed up by a 45-day Money-Back Guarantee
Immediately available for download
What Our Customers Say
"Worth the Price"
"Very good. Very valuable. And worth the price!"
Dan Nelson,
Safety Directory, Campaign Asphalt
"Excellent"
"It cuts to the chase and get to the point. It has excellent content and explanation of topics."
Jim Kauderer,
Risk Manager, AOL Time Warner
"Above Expectations"
"It's above expectations. An excellent source for any OSHA safety program."
Roy Spittle,
Founder, Taormina Electrical
Here's A Summary of Everything You'll Get

Your Customizable Electrical Safety Training Kit Includes:
14-slide PowerPoint presentation that gets the right message across while holding employees' attention
Trainer talking points with helpful tips that can be read word-for-word, customized, or used as informative background material
10-question quiz with answers to test trainees' knowledge of critical topics and document the success of your training session
One-page handout for trainees to reinforce your training message
Trainer checklist to ensure you hit the key training points
45-Day Money Back Guarantee
Safety News Alert's Electrical Safety Training Kit comes with an unconditional, 100% money back guarantee.
If you decide the Electrical Safety Training Kit doesn't deliver value or simply isn't your cup of tea, just email us at CustomerSuccess@SafetyNewsAlert.com within 45 days, and we'll process your complete, no-hassle refund in 1 business day or less.
But I'm confident you won't need to.
To your success,
Curt Brown