Get It Right Before the Real Inspectors Show Up
Read this Essential Insights now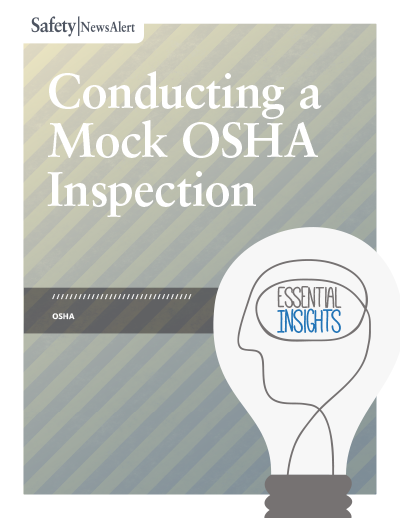 Conducting a Mock OSHA Inspection
Part of the OSHA Series
Being prepared for an OSHA inspection OSHA's back in the enforcement business and issuing inspections and citations at a record pace. They've hired more inspectors, are pushing for higher penalties and even looking to put safety pros in jail.
Compliance is more important than ever. And being prepared for an inspection is key. But how?
Conduct a mock OSHA inspection.
Top safety pros say this is the best way to get your facility in compliance, prevent hefty fines and prep employees for when a real inspector shows up.
And this Essential Insights shows you exactly how to do it.
What's Inside?
Conducting a Mock OSHA Inspection
Comply with Regs and Prepare for an Actual Inspection
10 steps to develop and execute a mock inspection
Agency's priorities: What needs to be on your radar
Top 4 reasons you'll get hit with an inspection
Gathering evidence that can save you from citations
Biggest inspection pitfalls lurking inside your facility
Be Ready for OSHA Before an Inspector Shows Up
What real-life inspectors say they're targeting now
Post-Obama changes you need to know
Get more accomplished: Setting the scope of a mock inspection
Crucial point: How well will employees react to an inspection?
Top things that tick off inspectors
OSHA's Ramping Up Citations: How to Stay Protected
Dealing with potential dangers after the mock inspection
Just how much OSHA wants citations to sting
No. 1 way the GDC's nailing companies for noncompliance
What employees should and shouldn't say to inspectors
Included: Checklist for conducting a mock OSHA inspection
What Our Customers Say
"Worth the Price"
"Very good. Very valuable. And worth the price!"
Dan Nelson,
Safety Directory, Campaign Asphalt
"Excellent"
"It cuts to the chase and get to the point. It has excellent content and explanation of topics."
Jim Kauderer,
Risk Manager, AOL Time Warner
"Above Expectations"
"It's above expectations. An excellent source for any OSHA safety program."
Roy. Spittle,
Founder, Taormina Electrical
45-Day Money Back Guarantee
Safety News Alert's "Conducting a Mock OSHA Inspection" Essential Insights comes with an unconditional, 100% money back guarantee.
If you decide "Conducting a Mock OSHA Inspection" doesn't deliver value or simply isn't your cup of tea, just email us at CustomerSuccess@SafetyNewsAlert.com within 45 days, and we'll process your complete, no-hassle refund in 1 business day or less.
But I'm confident you won't need to.
To your success,
Curt Brown