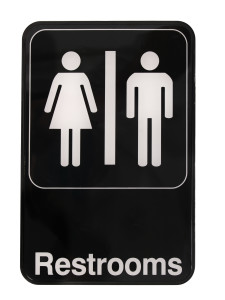 A train engineer says the lead locomotive bathroom on his train was so "nasty" that he couldn't use it when he needed to vomit. He threw up over the side of the locomotive, fell off the train onto the ground, and injured his back. Is his employer liable?
Ricky Edwards worked as a train engineer for CSX for 31 years. On May 28, 2012, he reported to work with an upset stomach. According to the court record:
"What he found on board did not improve matters. The bathroom in the lead locomotive was 'nasty,' Edwards saw and smelled. 'Urine, human waste and blue chemical' were 'splattered' all over the toilet. There were 'feces in the bowl' and dirt on the floor. Edwards sprayed disinfectant in the lavatory, closed its door, and started the trip."
Six hours later, Edwards' nausea got worse. He felt an urge to vomit. Not wanting to use the foul bathroom, he ran to a catwalk that ran along the outside of the locomotive. He threw up twice over the side while the train was stopped. The second time he fell over the handrail onto the ground. He broke two vertebrae and cracked a rib, ending his career with CSX.
Edwards sought damages under the Federal Employers' Liability Act. He argued regulations required CSX to keep its locomotive bathroom sanitary. Had the toilet been clean, he wouldn't have thrown up over the side of the locomotive.
CSX moved to get the case thrown out. It argued Edwards failed to show that the railroad violated the rules regarding clean bathrooms. It had performed a daily inspection the day before Edwards fell and cleaned the bathroom at that time. Regulations required they be checked and cleaned once a day.
A federal district court agreed with the company's reasoning and threw out Edwards' lawsuit. Edwards appealed to the U.S. Sixth Circuit Court.
What counts as 'once a day'?
The Sixth Circuit noted that the Federal Railroad Administration had said, "The duty to remedy an unsanitary condition arises only at the daily inspection … En route failures that occur after the daily inspection impose no burden on the railroad until the next inspection is due."
CSX inspected the locomotive on May 27 and sanitized the bathroom. On May 28, Edwards fell off the train at 6:15 p.m. But CSX still had the rest of the day – until 11:59 p.m. – to inspect and sanitize the bathroom.
Therefore, CSX complied with the regulations, according to the court.
The Sixth Circuit upheld the district court's ruling. Edwards' lawsuit against CSX was thrown out.
What do you think about the court's ruling? Let us know in the comments.
(Ricky Lynn Edwards v. CSX Transportation Inc., U.S. Circuit Crt. 6, No. 15-5385, 5/6/16)