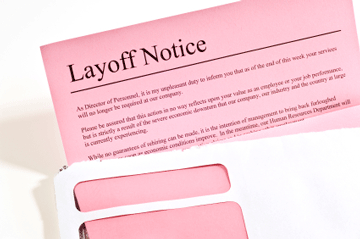 A worker slipped and fell, and sustained multiple injuries including one to her back. While the worker was still healing, she lost her job in a mass layoff. Does she still get comp payments?
Vivian Toscano suffered injuries to her hip, shoulder, elbow, ankle, knee, and lumbar and cervical spine. During her recovery, she was restricted by her doctor from performing various job functions.  She received temporary partial disability (TPD) benefits.
Her employer, Wyeth/Pharma Field Sales, didn't offer her modified work appropriate to her restrictions.
Then Wyeth laid off about 1,200 employees, including Toscano, while she was still recovering.
Wyeth's insurance company denied Toscano's TPD benefits on the basis that her loss of earnings wasn't related to her workplace injuries, rather it was caused by the layoff. Toscano appealed to get the TPD payments back.
An appeals court sided with the employee. It said Toscano wasn't able to do her job because of a workplace injury. That fact didn't change after the mass layoff.
Based on that, the court said she should continue to receive TPD benefits.
Cite: Wyeth/Pharma Field Sales v. Toscano, District Court of Appeal of FL, first district, No. 1D09-5138, 7/7/10.
What do you think of the court's decision? Let us know in the Comments Box below.