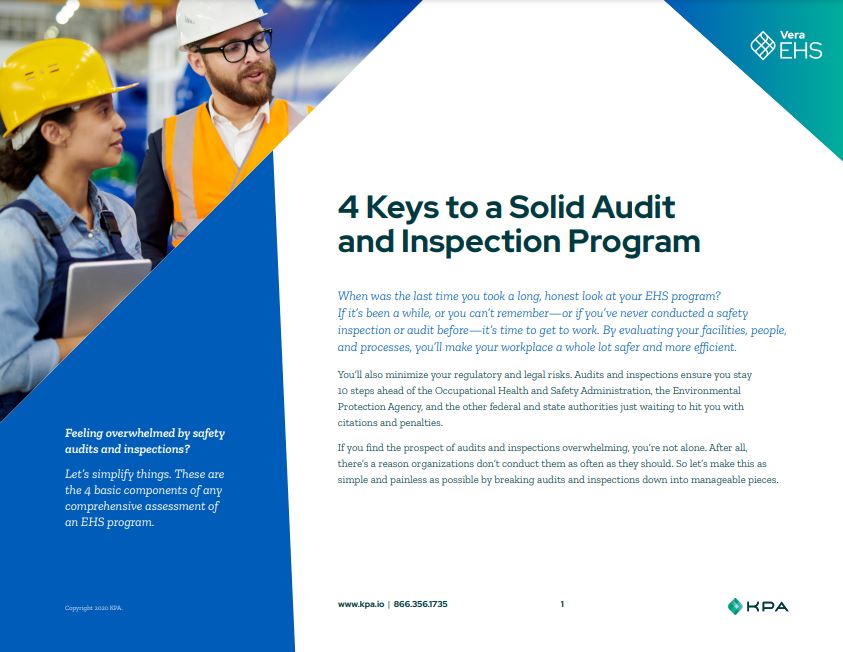 FREE GUIDE
4 Keys to a Solid Audit and Inspection Program
When was the last time you took a long, honest look at your EHS program?
If it's been a while, or you can't remember—or if you've never conducted a safety inspection or audit before—it's time to get to work.
By evaluating your facilities, people, and processes, you'll make your workplace a whole lot safer and more efficient.

In this free guide, we're making this process as simple and painless as possible by breaking audits and inspections down into manageable pieces.
After going through this guide, you'll better understand how to:
Boost workforce productivity and retention
Minimize your regulatory and legal risk
Stay ten steps ahead of OSHA, the EPA, and other federal and state authorities
DOWNLOAD YOUR FREE GUIDE

You will also be subscribed to our email newsletter that delivers practical advice, resources, and products to help you navigate everyday Safety challenges. You may also be contacted by the sponsor of this event.

You can unsubscribe from emails at any time.
Privacy Policy