The cost of the most serious workplace injuries is rising. Where should employers focus their safety resources to target the most disabling and expensive employee injuries? 
The Liberty Mutual Workplace Safety Index identifies the top 10 causes of serious, nonfatal workplace injuries by their direct costs to U.S. businesses each year.
According to the 2018 Index, serious, nonfatal workplace injuries amounted to $58.5 billion in direct U.S. workers' compensation costs. Put another way: It costs U.S. business more than $1 billion a week.
Here are the top 10 causes, their cost per year and the percentage of total injury costs:
Overexertion involving outside sources, $13.7 billion, 23.4%
Falls on same level, $11.2 billion, 19.2%
Falls to lower level, $5.9 billion, 10.0%
Struck by object or equipment, $5.3 billion, 9.1%
Other exertions or bodily reactions, $4.2 billion, 7.2%
Roadway incidents involving motorized land vehicle, $3.2 billion, 5.5%
Slip or trip without fall, $2.3 billion, 3.9%
Caught in or compressed by equipment or objects, $2.1 billion, 3.6%
Struck against object or equipment, $2.0 billion, 3.5%, and
Repetitive motions involving microtasks, $1.5 billion, 2.6%.
Falls account for a growing proportion of the losses.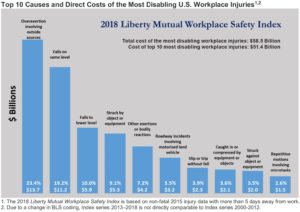 The cost of the top 10 most injuries is $51.44 billion, comprising 87.9% of the total cost burden.
The top five injury causes alone account for 68.9$ of the total costs. Nos. 6 through 10 combined account for 19.1%.
While the number of the most serious injuries fell by 1.5%, their cost (medical and lost-wage payments) increased by 2.9% between 2017 and 2018.
"To effectively improve safety, each employer needs to understand the root causes of the most serious workplace injuries they experience, and the ways to effectively mitigate these through training, equipment and work design," said James Merendino, general manager, Risk Control, National Insurance, Liberty Mutual.
The annual Index is based on information from Liberty Mutual, the U.S. Bureau of Labor Statistics and the National Academy of Social Insurance. BLS injury data are analyzed to determine which events caused employees to miss six or more days of work, then those events are ranked by total workers' compensation costs. The 2018 Index reflects 2015 data.