For the first time since 2012, there was no change in the number of workplace injuries and illnesses year-to-year, according to the U.S. Bureau of Labor Statistics. 
There were 2.8 million nonfatal workplace injuries and illnesses reported by private industry employers in 2018, completely unchanged from 2017, according to BLS estimates.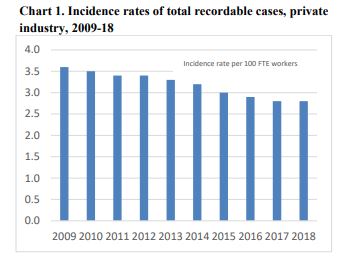 Rates for days away from work cases also didn't change from 2017 to 2018, with 900,380 injuries or illnesses causing workers to miss at least one day of work in 2018.
"The National Safety Council is concerned with the latest data from the Bureau of Labor Statistics … every employee deserves a safe work environment and to return home safely at the end of each work day," the NSC said in a news release.
The NSC called for employers to set the tone for safety from the top, ensure policies and training are in place to address the major causes of injuries and fatalities and continually look to identify and mitigate workplace safety hazards to aid in reducing the number of workplace injuries and illnesses.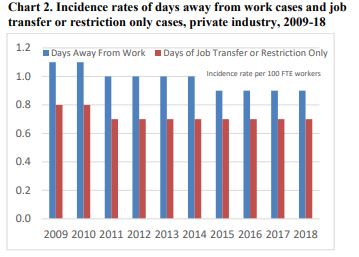 Increased rates in retail
Retail trade was the only private industry sector where the rate of total recordable cases saw an increase in 2018, increasing 4% to 409,900 cases, and the incidence rate going up from 3.3 cases to 3.5 cases per 100 full-time workers.
This sector accounted for 14% of all injuries and illnesses in private industry for 2018.
Within retail trade, general merchandise stores had the highest number of injuries and illnesses with a total of 96,000. Food and beverage stores came in second with 92,600, while automobile and motor vehicle parts dealers came in a distant third with 61,500 cases.
Injuries resulting from contact with objects and equipment accounted for the majority of days away from work cases in retail, increasing 10% in 2018 to 38,940 cases.
That's an overall higher rate for retail workers than workers in other industries.
Slips, trips and falls came in second with 34,190 cases, an increase of 11% over 2017's numbers.
Sprains, strains and tears were the most common injury reported in retail, accounting for 45,340 cases, or 36% of the days away from work cases.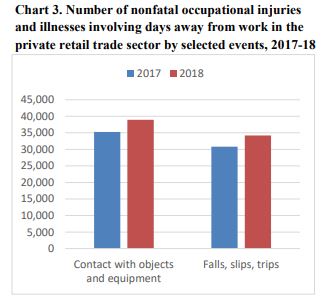 First year hospital visit data is available
For the first time in the report's history, estimates for medical treatment facility visits for injuries and illnesses resulting in days away from work were available to the BLS.
Medical treatment facilities, based on OSHA definitions, include emergency rooms and in-patient hospital facilities. Urgent care facilities, health units within an establishment, infirmaries and clinics are not considered emergency rooms.
Out of the 900,380 days away from work cases, a total of 333,830 (or 37%) resulted in a visit to a medical facility.
Of that 37%, 294,750 required a trip to the emergency room without a longer hospital stay, and 39,080 cases required in-patient hospitalization, with or without a trip to the ER.
The median days away from work for 2018 was eight days, while days away from work for emergency room visits only was seven days. For in-patient hospitalization, the median was 41 days.