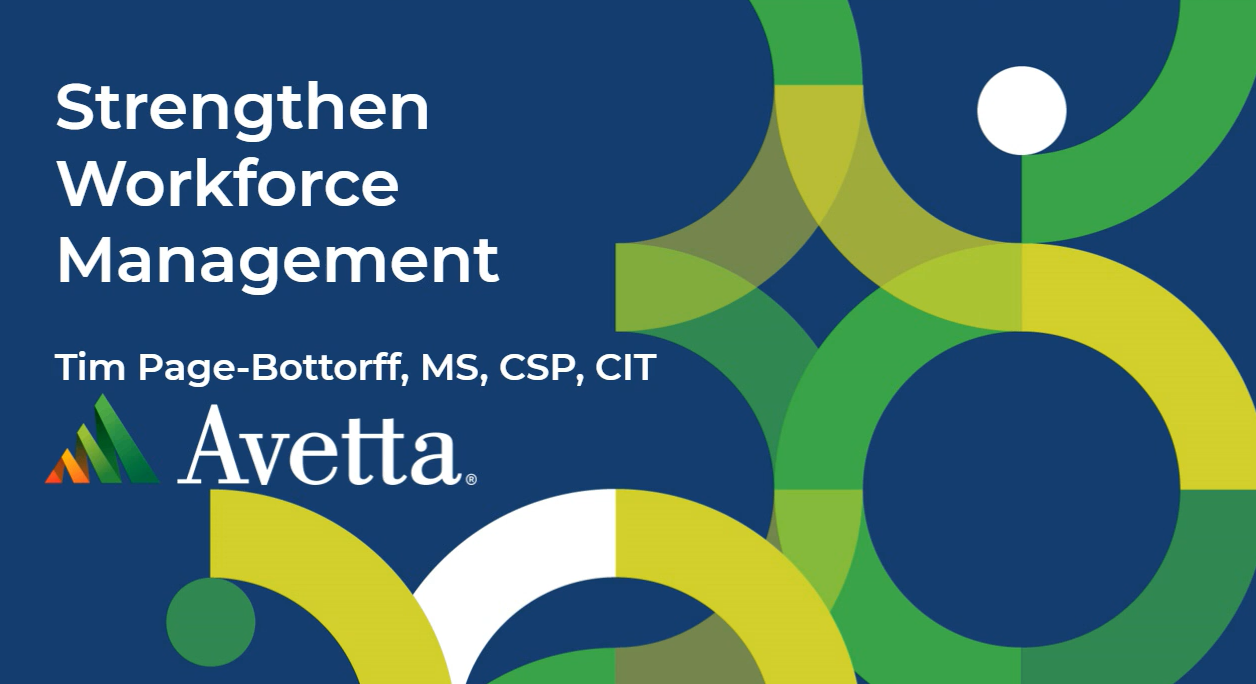 FREE ON-DEMAND WEBINAR
Workforce Risk Management
Avoid Incidents and Promote a Safety Mindset in Supervisors and Frontline Workers
Over 80% of organizations faced third-party incidents in the last 3 years.
46% of incidents result in moderate-to-high business impact.
Learn how to fight these odds.
Visibility into the individual workers that come on-site cannot be overstated, especially in an era when organizations are required to manage complex, cross-border supply chains.
Workers without the right qualification, training, and credentials can bring unwanted risks, which often go unnoticed. The consequences of non-compliance can be profound from injuries to lawsuits and more.
Join Avetta Fellow, Tim Page-Bottorff, as he shares real-world stories in workforce management and lessons companies can learn from them.
In this session, you'll learn proven strategies that will help you:
Ensure only qualified workers are allowed on-site
Verify compliance and workforce readiness
Make your worksite safer
Motive supervisors to have a positive impact on safety outcomes
Get frontline workers to be proactive about safety
Speaker Info
Tim Page-Bottorff, MS, CSP, CIT, Senior Consultant Safe SafeStart
Tim's career in safety began 28 years ago as a marine in Operation Desert Storm, assisting contractors putting out oil fires. After leaving the military, Tim was awarded the ASSP Society Wide Safety Professional of the Year in 2018. Tim also received the National Safety Council's Distinguished Service to Safety Award (DSSA). Tim is currently the Region II Vice President for ASSP, is the CEO of Total Safety Compliance, Lectures for Central Washington University and is a Senior Consultant with the SafeStart team.
Mr. Page-Bottorff is the Regional Vice President for Region II, The Deputy Vice President of CORA, a member of the Finance Committee, the Secretary of the Training and Communications practice specialty and on the Standards Committee for ANSI Z490.2.
Mr. Page-Bottorff is considered a thought leader by his peers in instructional design and delivery of health and safety training programs. Tim instructs for Total Safety Compliance, SafeStart, The OSHA Training Institute at UCSD and several other customers globally. He is currently lecturing in the Occupational Health and Safety Management Program at Central Washington University.
Mr. Page-Bottorff is the author of, "Safety Health and Security in Wastewater Systems" and is the author of the "Core of Four", a motivational book to improve human performance.
DOWNLOAD YOUR FREE ON-DEMAND WEBINAR

By downloading this resource, you will be subscribed to the Safety News Alert email newsletter that delivers practical advice and resources to help you navigate everyday safety challenges. You may also be contacted by this whitepaper provider.

You can unsubscribe from emails at any time.
Privacy Policy