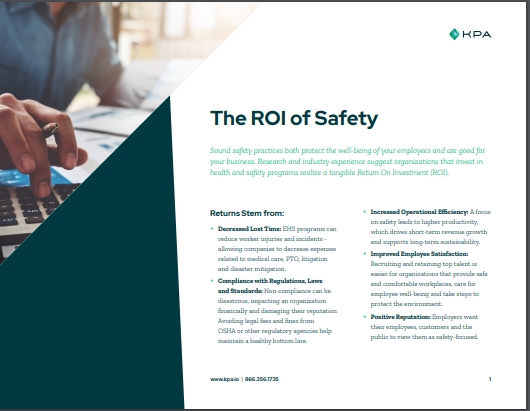 FREE WHITEPAPER
The ROI of Safety
Good for Workers, Employers & Business
Sound safety practices protect not only the well-being of your employees, but are good for your business and bottom line.
Research and industry experience suggest organizations that invest in
health and safety programs realize a tangible Return On Investment (ROI).
Some of the ROI of better safety comes from:
Decreased Down Time: strong health and safety programs can reduce worker injuries and incidents – allowing companies to decrease expenses related to medical care, PTO, litigation and lost productivity.
Compliance with Regulations, Laws and Standards: Non-compliance can be disastrous, impacting an organization financially and damaging their reputation. Avoiding legal fees and fines from OSHA or other regulatory agencies helps maintain a healthy bottom line.
Increased Operational Efficiency: A focus on safety leads to higher productivity, which drives short-term revenue growth and supports long-term sustainability
Positive Reputation: Simply put, employers want their employees, customers and the public to view them as safety-focused. No one wants to work for or support a dangerous, unethical company.
Many companies face the challenge of basing decisions on cost savings vs worker safety.
But here's another ROI of fine-tuning your safety programs now. Safety+Health magazine reports that investments in safety will result in savings down the line. For every $1 spent on safety today, you save $2 in the future. In fact, you could save $3, $4 or even $6 in the future per dollar spent now
This quick-read guide, gives you the breakdown of how to cut costs with better workplace safety outcomes.
Protect your people, save money, and build a better reputation for your business.
DOWNLOAD YOUR FREE WHITE PAPER

You will also be subscribed to our email newsletter that delivers practical advice, resources, and products to help you navigate everyday Safety challenges. You may also be contacted by the sponsor of this event.

You can unsubscribe from emails at any time.
Privacy Policy