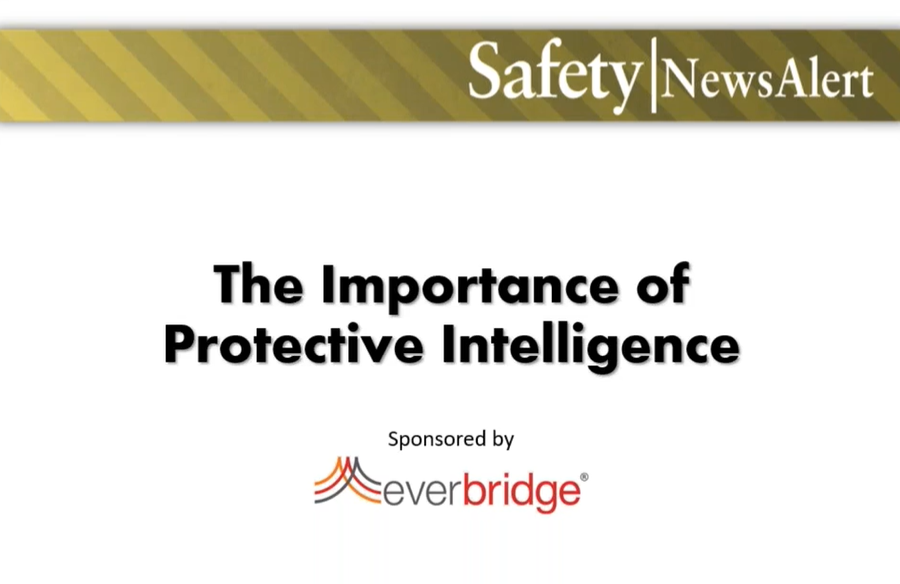 FREE ON-DEMAND WEBINAR
The Importance of Protective Intelligence in Safety 
Spot and stop threats to workers 
The scope of a safety manager's job duties has changed.
In the past, keeping workers safe revolved around teaching them to recognize hazards, operate machinery and equipment properly, and, well, not be knuckleheads.
But the pandemic has resulted in a surge in workplace violence, with active shooter incidents doubling since 2016 and nearly 10% of workplace fatalities now homicides.
Mental health struggles are the root cause of these tragedies.
And yet, many safety pros can sometimes feel ill-equipped to spot the troubling signs of a worker about to make a mistake everyone will regret.
Enter protective intelligence.
Watch this free on-demand webinar to learn why more and more safety pros are turning to it to keep their people safe from internal and external threats. 
You'll walk away knowing:
What protective intelligence is – and isn't 
Why implementing protective intelligence leads to a happier, safer, more secure workplace 
New ways to identify and assess threats – and mitigate them before they cause harm  
How a proactive mindset makes all the difference – and how to get there
The information that truly matters when it comes to monitoring and prevention
How to begin implementing a protective intelligence program – regardless of company size
SPEAKER:
Michelle Coussens Owner, Trainer & Consultant, Plan B Consulting
Michelle Coussens is a resourceful, resilient, and relentless business professional with demonstrated success in building new programs, driving short-term efficiencies, and improving long-term effectiveness all through innovation, rigor, and courageous leadership. She has extensive experience in a variety of industries, as well as in consulting, education, and not-for-profit organizations.
For more than ten years, Ms. Coussens has owned and operated Plan B Consulting. Services span speaking, training, and assistance in preparing strategic and business plans, project management, leadership, ethics, diversity & inclusion, operational excellence, and other related topics.
In addition, she facilitates business meetings and retreats and conducts market analysis and competitive intelligence for various types of organizations worldwide. Michelle is on the faculty of the American Management Association where she teaches numerous different strategic planning, management, and analytical seminars to business professionals around the world and is also on the business faculty at College of DuPage.
She also has developed and taught courses for NeighborWorks© America since 2005 and has served as a consultant to numerous community development organizations both within and outside the NeighborWorks network. In addition, she develops and leads business education webinars for Progressive Business Executive
Education (now Premier Learning Solutions), as well as ethics and diversity classes and webinars for the Real Estate Institute. Through her business, she has published more than 150 monthly issues of her newsletter, Planning Possibilities, which is currently distributed worldwide to over 4,500 clients and contacts.
Ms. Coussens holds a Bachelor of Arts degree in mathematics from Northwestern University and a Master's in Business Administration, with a concentration in Marketing, from DePaul University. She also has achieved several professional insurance designations and holds an Illinois life/health insurance license.
WATCH YOUR FREE ON-DEMAND WEBINAR

By downloading this resource, you will be subscribed to the Safety News Alert email newsletter that delivers practical advice and resources to help you navigate everyday safety challenges. You may also be contacted by this whitepaper provider.

You can unsubscribe from emails at any time.
Privacy Policy