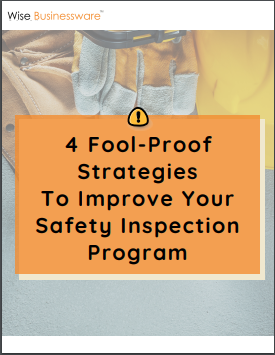 FREE WHITEPAPER
4 Foolproof Strategies to Improve Your
Safety Inspections
Do the inspectors job before they can
In order to create an inspection program that really uncovers the problems in your organization, you need to think beyond compliance.
Internal inspections keep your team on their feet, help you discover new ways to improve your processes and reduce potential problems in your workplace.
A top-level organization is going to identify gaps, find solutions, and decrease hazards. Managers should welcome regular, targeted inspections that will help them implement best practices – saving time, and money, and mitigating risk in the long run.
But your inspections aren't going to mean much if they themselves aren't effective or carefully analyzed.
Inside this quick-read guide, you'll discover the top four key factors to improving your inspection program, plus:
How to optimize and utilize inspection checklists to their highest potential

How to decide which areas to focus on and which places pose the greatest risk for your organization

Ways to improve your reporting process and track data more efficiently
DOWNLOAD YOUR FREE WHITE PAPER

You will also be subscribed to our email newsletter that delivers practical advice, resources, and products to help you navigate everyday Safety challenges. You may also be contacted by the sponsor of this event.

You can unsubscribe from emails at any time.
Privacy Policy