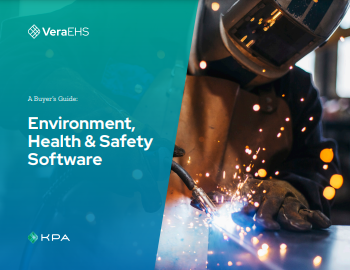 FREE WHITEPAPER
A Buyer's Guide to EHS Software
Everything you need to know to protect your employees and save money with EHS management software
EHS software has the potential to transform your company's safety programs.
Imagine having access to trainings that update to reflect changing regulations or having easy access to essential audit and inspection checklists.
EHS software can provide all this and more – and it works. It's how today's leading organizations protect their employees from falls, chemical spills, disease outbreaks, collisions, eye and face injuries, and other common but avoidable workplace incidents.
Plus, the right software can save your organization thousands of dollars a year.
This free whitepaper will teach you everything you need to know about EHS software – and how you can find the right solution for your company.
The end result: serious savings, happier and healthier workers, and peace of mind for your managers, leaders, and executives.
Download your copy today – courtesy of KPA!
DOWNLOAD YOUR FREE WHITE PAPER

You will also be subscribed to our email newsletter that delivers practical advice, resources, and products to help you navigate everyday Safety challenges. You may also be contacted by the sponsor of this event.

You can unsubscribe from emails at any time.
Privacy Policy