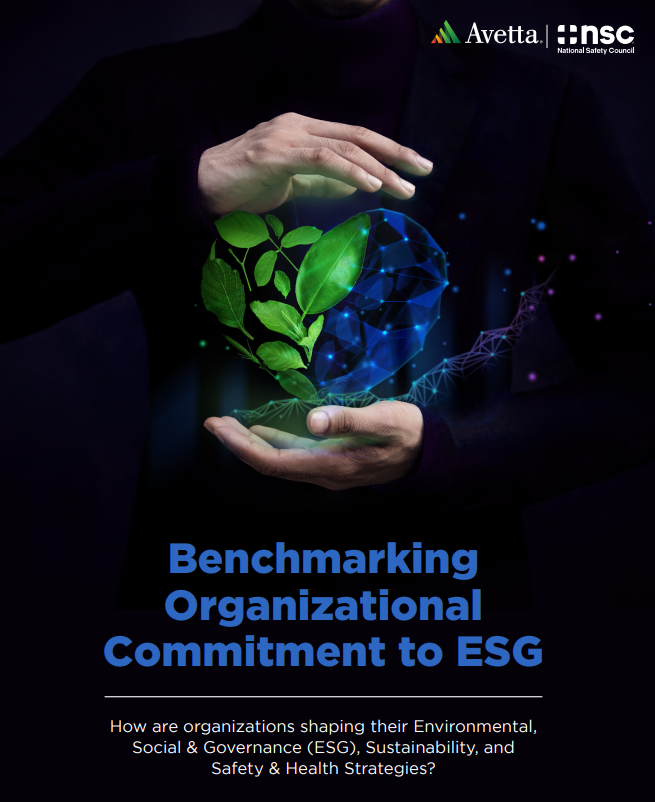 FREE REPORT
Benchmarking Organizational Commitment to ESG
Get a comprehensive look at the state of ESG 
Modern businesses are realizing sustainability is a critical corporate initiative. This awareness is shaping their best practices, everyday workflows, and competitive strategies.
The need to align ESG priorities with leadership goals and future benchmarks has never been greater. Customers and stakeholders are seeking transparency from businesses that goes beyond quarterly financial reports. ESG and EHS policies are becoming increasingly important to consumers, investors, stakeholders, and regulatory bodies.
This was the focus of an exclusive survey series conducted by Avetta and the National Safety Council (NSC) that interviewed 765 professionals on their approach to Environmental, Social & Governance (ESG), and Enterprise Health and Safety (EHS).
Download the report discover the current state of ESG among your peers and their organizations and be ready to implement new ideas and best practices for promoting ESG within your organization.
DOWNLOAD YOUR FREE REPORT

By downloading this resource, you will be subscribed to the Safety News Alert email newsletter that delivers practical advice and resources to help you navigate everyday safety challenges. You may also be contacted by this whitepaper provider.

You can unsubscribe from emails at any time.
Privacy Policy