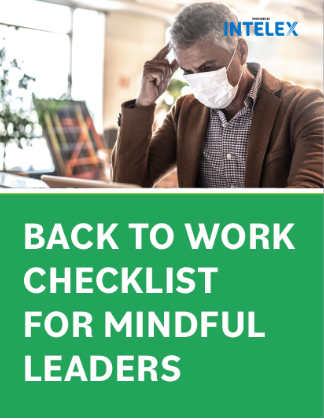 FREE WHITEPAPER
Back to Work Checklist
How to Bring People Back Safely and Set Your Team Up for Success
Mindful leaders are already planning for the best way to support employees when they return to the workplace.
As a leader, you'll need to take good care of your own well- being and strike a balance so that you can be the role model for your employees.
Easier said than done, we know.
Of course, you will also need to ensure that your workplace follows the health and safety guidelines to protect employees and that will take time and energy. But the most important task will be supporting employees to return to work successfully.
The following checklist of ideas will help you with this by providing:
Ideas and resources for supporting your employees as they transition back

Tools to build resilience and motivation on your team

What to address with your employees to give them peace of mind
DOWNLOAD YOUR FREE WHITE PAPER

You will also be subscribed to our email newsletter that delivers practical advice, resources, and products to help you navigate everyday Safety challenges. You may also be contacted by the sponsor of this event.

You can unsubscribe from emails at any time.
Privacy Policy