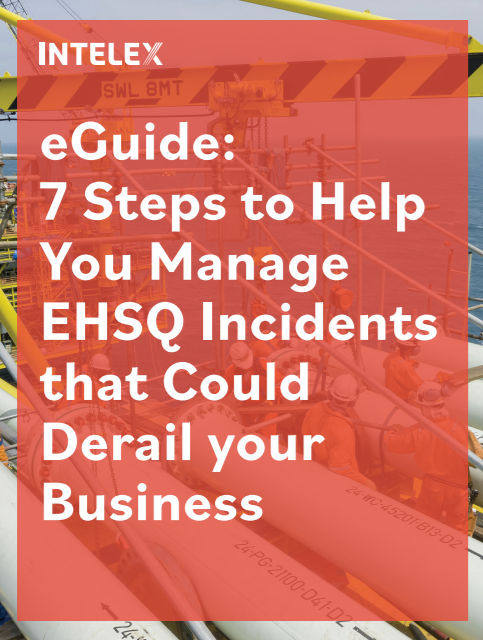 FREE eGuide:
Prevent EHSQ Incidents From Derailing Your Business
Important steps to help manage catastrophes in your company
What does your EHSQ incident prevention plan look like?
Can it weather the storms of unexpected disasters like earthquakes, hurricanes, major flooding, or even an explosion?
The fact is, if one of the disasters above were to hit, most businesses would be absolutely crippled.
And the worst part is, everyone would be pointing fingers at safety for not being better prepared.
That's why Intelex created this free whitepaper. With it, safety professionals be able to handle just about any catastrophe thrown at them.
In the whitepaper, you'll also learn:
7 best practices to follow to successfully manage incidents
Who you should contact first in a catastrophe (police vs management)
New methods for faster recovery – that don't compromise your investigation
The top 5 safety incidents that can permanently disrupt an organization and how to avoid them
Key points to include in post-incident communication
4 must-haves for a thorough and complete incident investigation
DOWNLOAD YOUR FREE WHITEPAPER

You will also be subscribed to our email newsletter that delivers practical advice, resources, and products to help you navigate everyday safety challenges. You may also be contacted by the sponsor of this event.

You can unsubscribe from emails at any time.
Privacy Policy