As technology advancements continuously push forward, the modernization of safety procedures has come a long way. Today, we have a lot of different devices and solutions available to prevent all kinds of safety incidents. Companies that prioritize their people invest in software and hardware solutions that ensure safety in the workplace.
In this article, we will take a look at four types of modern safety solutions that are now available in the market.
1) Employee monitoring
If you have workers in the field, working on heights and similar compromising "positions", or simply employees that have to travel a lot, consider an all-in-one solution to keep on eye on their well-being.
Having access to your employee's location and their current safety means you can quickly locate employees that are in danger and send someone to help.
One example of such a system is the StaySafe platform.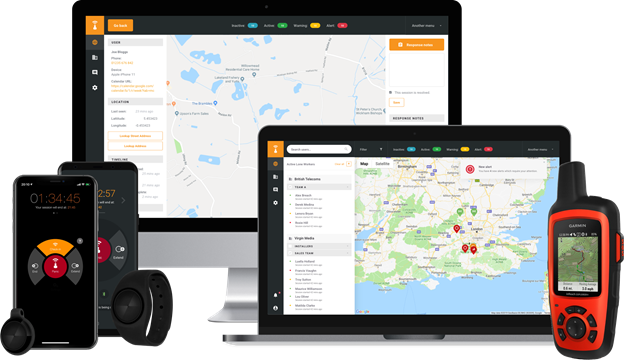 The platform's main features are:
Lone Worker App that workers can use to perform a check-in or raise an emergency
Cloud-based monitoring hub that can be used to locate lone workers and track their movements in real time
Interconnectedness with other devices. Workers can use wearable technology like watches or belts to activate panic alarms and ask for help. This is really neat as there is a variety of wearable IOT tech that is now used for safety purposes, from tracking hand vibrations, heat levels, sweat levels, and fatigue to garments that can change its temperature to keep stable body temperature, and
In areas with weak mobile signals, workers can use StaySafe GPS tracking devices.
2) Incident monitoring solutions
Implementing an incident monitoring solutions application is the proactive way of monitoring the safety of your workers. You can think of it as an upgrade to the solution mentioned above. These types of solutions help locate and communicate with the employees that happen to be in the vicinity of a big incident (like a terror attack or a natural disaster). They are used to check if the workers are safe and to quickly send help in case they are hurt.
A great example of such a solution is Incident Eye.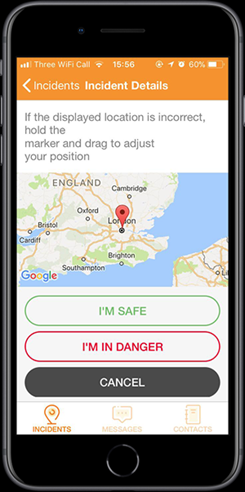 It can track over 10,000 employees during an emergency using a global access hub. It offers features like:
locating employees who are in the vicinity of an incident
capturing their safety status in real time
communicating with affected employees, and
trackind communications throughout the incident (so you can generate an audit if needed).
While some of these features can be found in many other apps, location tracking combined with a straight communication channel gives you the ability to focus your efforts only on those affected by the incident, saving valuable time.
3) Digital LOTO programs
Safety managers implement different safety programs to prevent injuries and fatalities, some with more success than others. One of the more impactful ones are lockout tagout (LOTO) programs. Implementing LOTO programs can prevent 120 deaths and 50,000 injuries based on data from OSHA.
Because of that it is not a surprise to see more innovation in this space. While your first idea might be an innovative LOTO device, we are actually talking about something quite different – digital LOTO programs. ScanESC lockout/tag-out software helps you digitize your LOTO program which comes with many benefits:
electronically audit procedures and employees
track lockout/tagout usage and downtime
assign audits to specific individuals, and
manage and access all LOTO audit data through a standard web browser.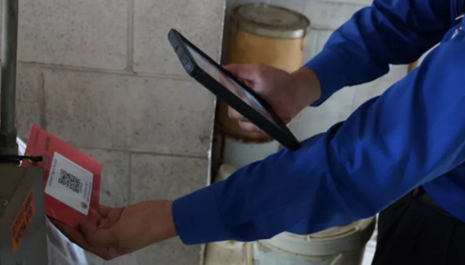 This kind of software can be used on most mobile devices. It is accessed via a web portal to monitor documentation, check status, and store historical data. Workers on the plant floor can just scan a QR code and the software can load a written LOTO procedure or a video that shows how to properly shut down and lock out specific machines.
Even though a conventional LOTO program can help you prevent safety hazards, a digitalized LOTO program can gather and store data in a centralized platform that will help you analyze and determine the success of your LOTO programs.
This way, you can not only track the effectiveness of different programs, but also evaluate which steps of your LOTO procedure might need to be adjusted.
4) Robotic exoskeletons
A robotic exoskeleton may sound futuristic at first. However, this technology was invented way back in 1965. It was a remarkable invention for giving additional lifting strength to its user. However, technological discoveries and materials during that time were not sufficient. Because of the novelty of this technology and various technical limitations, it took a few decades until exoskeletons were ready to hit the market.
Now, the robotic exoskeletons are used in industrial settings to prevent occupational injuries due to repetitive tasks. Eskobionics is one of the providers of the robotic exoskeleton in the manufacturing industry. It has a lot of advantages, such as:
increased productivity
reduced fatigue
reduced chances for a wide range of worker injuries, and
helping people with pre-existing physical conditions perform their tasks easier.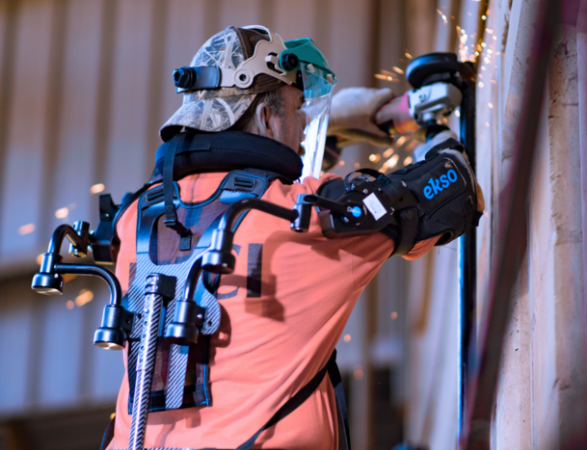 Some workers might be hesitant to use this unique piece of equipment, but most change their mind after they try it on for the first time.
They also offer a mechanical arm called EksoZeroG that holds heavy tools on aerial work platforms so workers have more endurance, accuracy, and safety. Construction workers might find this especially useful as they often work with heavy tools that need to be held overhead.
The downside of these robotic solutions is the cost. For example, EksoZeroG is around $7,000. Every company has to decide if the gains in safety and productivity are worth that price tag.
Parting thoughts
The safety of the workers should always be a top priority in the workplace, especially in the industrial setting and field work where safety incidents are a common occurrence. With advancements in technology, companies can now improve their operations and enhance their personnel's safety in more ways than ever.